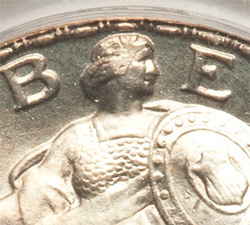 Collectors of Standing Liberty Quarters pay particular attention to the details of Liberty's head. Because of the nature of the coins design, relatively few specimens were struck and survive with full details of Liberty's hair and face. A designation known as "Full Head" (FH) is assigned to coins which have all of the details present.
Coin grading companies will typically evaluate Standing Liberty Quarters for the full head designation after arriving at a numerical grade. According to the ANA grading guide, the definition of full head is as follows: All details in hair are well defined; hair line along face is raised and complete; eyebrow is visible; check is rounded.
Grading company PCGS provides more detailed requirements for the designation, which vary based on slight changes in the coin design. The 1916 Type 1 style head did not have a great deal of detail in the original design, so it is required that the details of the hair are distinct and do not blend into the cap or head. The 1917 Type 1 original design was altered to show cords between Liberty's hair and head. These cords must be well defined and distinct to qualify for the designation. For the Type 2 design used for the duration of the series (pictured above), the design features a helmet like cap with a three leaf  wreath. To receive the "Full Head" designation, the three leaves of the wreath must be visible and the hairline must be distinct around the face. Details in the hair should also be distinct, with some slight weakness allowed.
Some dates of the series are more common than others with Full Head. The scarcer Full Head Standing Liberty Quarters can be worth many multiples of the coins carrying the same grade without the designation. Before deciding how much of a premium should be paid for mint state Standing Liberty Quarters with the full head designation, collectors should consult grading company population reports or price guides which list separate values for Full Head coins.