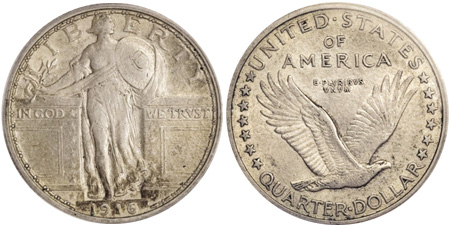 The 1916 Standing Liberty Quarter (Buy on eBay) is the lowest mintage coin of the series by far, with a mere 52,000 pieces produced. This issue actually ranks as one of the lowest mintage circulating coins of the entire 20th century, solidifying its status as an important key date coin.
The tiny mintage was struck at the Philadelphia Mint during the final two weeks of 1916 and released into circulation in January 1917. Initially, little notice was provided about the new design, so virtually the entire mintage quietly entered circulation and few pieces were saved. Around this time, many individuals had taken up the habit of setting aside examples from the first year of production for a new coin series. In this instance, it is believed that the public set aside examples of the following date, after the design change had received greater publicity.
Awareness of the rarity of the 1916 Standing Liberty Quarter would not develop until many years later. By this time, most examples had experienced significant circulation, with some lost or worn beyond identification. The low mintage and the impact of circulation make all surviving examples rare. Even lower grade pieces identified by a partial date carry significant premiums. Very few examples of the key date still exist in uncirculated condition, with pieces at the gem level extremely rare. The single finest known example has been graded PCGS MS67+ FH. This coin most recently sold at auction in 2010 at a price of $195,500.
Coin Specifications
Designer: Hermon A. MacNeil
Composition: 90% Silver, 10% Copper
Weight: 6.25 grams
Diameter: 24.3 mm
Edge: Reeded