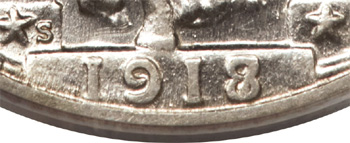 The 1918/7-S Standing Liberty Quarter (Buy on eBay) is an extremely rare and popular overdate, which shows the numeral "8" over "7" for the final digit of the date. A single obverse die created at the Philadelphia Mint had been impressed once with a 1917-dated hub and subsequently with a 1918-dated hub. The die was then shipped to the San Francisco Mint where the mint mark was applied and the die was put into production.
Despite the plainly visible appearance of the overdate, it was not discovered by collectors until nearly two decades after its creation. This results in very few surviving examples of the variety, particularly in uncirculated condition. For circulated examples, two diagnostics may be used to assist in identification. Genuine examples will display a die clash in the protected recesses near Liberty's right knee, visible even in examples graded Good. The second diagnostic is a small pimple of extra metal above and the to the right of the final digit of the date. This diagnostic is less discernible on well circulated pieces.
The highest graded 1918/7-S Standing Liberty Quarters are two examples graded MS67, however many collectors pursue the finest known pieces with the Full Head designation. One of the MS67 graded examples sold for $105,750 in 2016. One of the finest known examples with the Full Head designation, graded PCGS MS64+ FH sold for $336,000 in 2020.
Coin Specifications
Designer: Hermon A. MacNeil
Composition: 90% Silver, 10% Copper
Weight: 6.25 grams
Diameter: 24.3 mm
Edge: Reeded