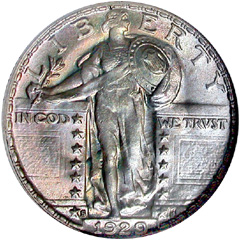 The Standing Liberty Quarter was struck each year from 1916 to 1930, with the exception of 1922 when no quarters were produced. The mintages for the series range from an extreme low for the first year of issue to relatively high levels for subsequent issues of the series.
Coins were minted variously at the Philadelphia, Denver, and San Francisco Mints. The series is divided into two distinct varieties. The first was struck during 1916 and a portion of 1917 and features a depiction of Liberty with an exposed breast. The second variety was used from 1917 until the conclusion of the series and features Liberty with a covered breast and three stars beneath the eagle on the reverse.
The mintage low occurred for the 1916 Standing Liberty Quarter at only 52,000 pieces. A second low mintage date is the 1927-S at 296,000 pieces. The highest mintage occurred in 1920 when 27,860,000 coins were produced at the Philadelphia Mint.
The table below displays the mintages for Standing Liberty Quarters produced for circulation.
Standing Liberty Quarter Mintages
| Issue | Mintage |
| --- | --- |
| 1916 | 52,000 |
| 1917, Variety 1 | 8,740,000 |
| 1917-D, Variety 1 | 1,509,200 |
| 1917-S, Variety 1 | 1,952,000 |
| 1917, Variety 2 | 13,880,000 |
| 1917-D, Variety 2 | 6,224,400 |
| 1917-S, Variety 2 | 5,552,000 |
| 1918 | 14,240,000 |
| 1918-D | 7,380,800 |
| 1918-S | 11,072,000 |
| 1919 | 11,324,000 |
| 1919-D | 1,944,000 |
| 1919-S | 1,836,000 |
| 1920 | 27,860,000 |
| 1920-D | 3,586,400 |
| 1920-S | 6,380,000 |
| 1921 | 1,916,000 |
| 1923 | 9,716,000 |
| 1923-S | 1,360,000 |
| 1924 | 10,920,000 |
| 1924-D | 3,112,000 |
| 1924-S | 2,860,000 |
| 1925 | 12,280,000 |
| 1926 | 11,316,000 |
| 1926-D | 1,716,000 |
| 1926-S | 2,700,000 |
| 1927 | 11,912,000 |
| 1927-D | 976,000 |
| 1927-S | 396,000 |
| 1928 | 6,336,000 |
| 1928-D | 1,627,600 |
| 1928-S | 2,644,000 |
| 1929 | 11,140,000 |
| 1929-D | 1,358,000 |
| 1929-S | 1,764,000 |
| 1930 | 5,632,000 |
| 1930-S | 1,556,000 |