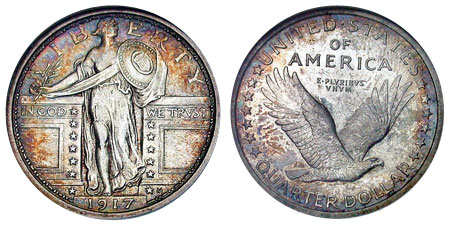 The Standing Liberty Quarter was struck in a composition of 90% silver and 10% copper. The coins have a standard weight of 6.25 grams (96 grains) in uncirculated condition and a diameter of 24.3 mm. All coins have a reeded edge. The mintmark for the pieces produced in San Francisco and Denver is found on the obverse, between the bottom left star and Liberty's right foot. The designer's initial, "M" for MacNeil is found to the opposite side, incused next to the bottom right star.
The usual luster for the series ranges from flat to satiny at most. Some pieces may exhibit semi-proof like fields, however unlike other quarter dollar types, full prooflike coins do not exist.
For circulated examples, wear is first encountered on Liberty's right leg. Sometimes such wear is present on pieces which might otherwise have the appearance of being in uncirculated condition. For the issues from 1916 until 1924, the date wore quickly in circulation since it was not recessed. As such, pieces from this era with a full date are generally not encountered in grades VG or below.
Dates: 1916 -1930
Mint Mark: none (Philadelphia), D (Denver), S (San Francisco)
Composition: 90% silver, 10% copper
Weight: 6.25 grams
Diameter: 24.3 mm
Edge: reeded
Designer: Hermon A. MacNeil