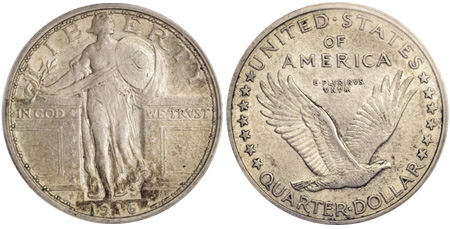 The 1916 Standing Liberty Quarter is the lowest mintage coin of the series by far, with a mere 52,000 pieces produced. This issue actually ranks as one of the lowest mintage circulating coins of the entire twentieth century, solidifying its status as an important key date.
The tiny mintage was struck at the Philadelphia Mint during the final two weeks of 1916. The mint was apparently eager to begin production of the new design, after producing 1.78 million quarters featuring the previous Barber design during the course of the year.
Initially, little or no notice was given about the new design, so virtually the entire mintage of 1916 Standing Liberty Quarters entered circulation and few pieces were saved. It is generally believed that the public set aside examples of the following date, after the design change had received greater publicity. Meanwhile, the key date coins were left to circulate, until greater awareness of their rarity developed in later years.
As a result of the circumstances of the release, very few examples of the key date have survived in uncirculated condition, with pieces at the gem level extremely rare. The finest known examples of the 1916 Standing Liberty Quarter are graded MS67 with the Full Head designation. These pieces have sold for as much as $149,500 at auction. On the other end of the spectrum, well circulated examples of this key date in Good-4, which are generally identified by only a portion of the final digit in the date, sell for prices around $3,000 or more.