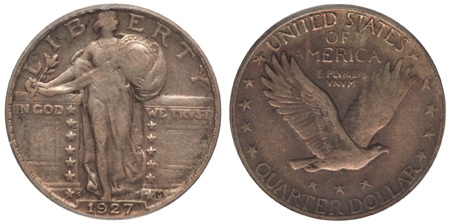 The 1927-S Standing Liberty Quarter has the second lowest mintage of series and represents a significant conditional rarity. Just 396,000 pieces were produced and released for circulation. More notably, only an incredibly small number of these pieces survive which exhibit the "full head" designation.
According to specialist J.H. Cline, only one percent of the entire mintage likely exhibited the "Full Head" when struck. The amount surviving for present day collectors is considerably smaller. The grading services PCGS and NGC have certified approximately two dozen pieces with the FH designation, and this number could very well be inflated due to resubmissions.
Only a handful pieces have graded MS-65FH or higher. Indeed, the rarity of the issue at this grade level is multiple times that of the more famous 1916 key date. One of the examples of the 1917-S Standing Liberty Quarter graded MS65FH by PCGS sold for $149,500 at auction in May 2007.